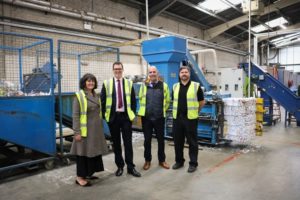 Social enterprise Antur Waunfawr was pleased to welcome the Deputy Minister for Economy and Transport, Lee Waters AM, and show him the important work undertaken in supporting adults with learning disabilities.
Antur Waunfawr, which is celebrating its 35th birthday this year, is a leading social enterprise in north Wales, providing work and training opportunities for individuals with learning disabilities in their community. It currently employs over 100 staff and supports 67 individuals with learning disabilities.
Mr Waters visited three of Antur Waunfawr's projects; Warws Werdd, a furniture and clothes reuse project; Caergylchu recycling plant and confidential shredding service in partnership with Gwynedd Council; and Beics Antur, an accessible bike hire business based in Caernarfon.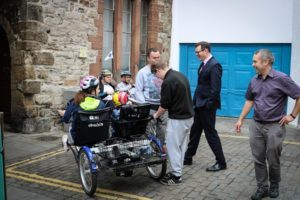 Menna Jones, chief executive at Antur Waunfawr, said: "It was a pleasure to welcome the Deputy Minister and show him the range of exciting projects ongoing at Antur Waunfawr. We are committed to developing in a sustainable way, which means that protecting the natural environment and developing green businesses is central to our organisation's values.
"It was good to be able to share our vision, particularly our plans for our Beics Antur project at Porth yr Aur in Caernarfon, which will provide inclusive cycling opportunities and a wellbeing hub for the local community, and will meet the objectives of the Active Travel Wales Act."
The Deputy Minister for Economy and Transport, Lee Waters, said:  "It was a pleasure to visit three of Antur Waunfawr's sites today to see the excellent work being done creating real work experiences for people with disabilities within the wider community.
"Their work gives meaning to the term social entrepreneurship. They have spotted numerous opportunities to create enterprises that meet a community need and provide meaningful work to people who face disadvantage.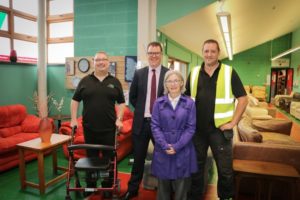 "The visit also demonstrated the importance and potential of social enterprise to be an important employer within communities across Wales.
"Supporting social businesses across Wales to develop and grow is one of the key goals of the Welsh Government, through Taking Wales Forward and the Economic Action Plan.  The sector contributes over £3bn to our economy and employs an estimated 55,000 people. Social enterprises add real value to the Welsh economy and labour market by creating jobs, improving educational attainment, providing social care in people's houses and reducing inequality, particularly in our most deprived communities."