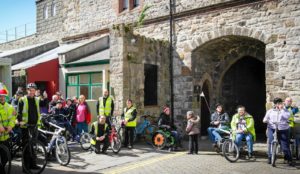 Antur Waunfawr purchased the yard at Porth yr Aur site from Pritchard Brothers in late 2017, and since then we have been running our Beics Antur business from the site, while planning the development.
The site will be developed into a Health and Wellbeing Centre, which will be a fully accessible and purpose-built 2-storey building, suitable for people of all physical abilities. It will be home to the Beics Antur inclusive cycling project, which includes an adaptive fleet of bikes, as well as a Wellbeing Loft to host a range of health and well-being activities, available for public hire.
The development will also include a unique sensory room, which will benefit individuals with profound disabilities or sensory impairments.
The site is ideally located on Caernarfon High Street, close to accessible walking and cycling routes, in order to make the most of the town's other amenities.
This is a £1-million project, with £466k funded by grants and a Crowdfunding campaign, and the remainder being an investment by Antur Waunfawr.
The project has been supported by the European Regional Development Fund through the Welsh Government; the Architectural Heritage Fund; the Welsh Government's Intermediate Care Fund; the Welsh Government's Community Facilities Programme; and a pledge from the Garfield Weston Foundation.
Timetable
The project's architect is Donald Insall Associates, and MPH Construction has been appointed to undertake the Construction work. Work will begin on site on the 13th of January 2020, with a view to completion by May 2021.
Updates
The latest updates will be posted on our social media channels, so please follow our social pages for further information! If you have any questions, please contact:
elain.hughes@anturwaunfawr.cymru