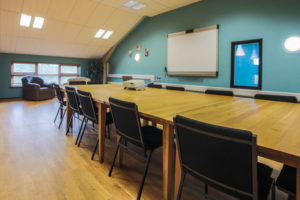 Nid yw ein hystafell gyfarfod ar gael ar hyn o bryd. Diolch.
Our meeting room is currently unavailable. Thank you.
Situated on the easily accessible Cibyn Industrial Estate in Caernarfon, this modern and spacious room is ideal for training and meetings:
• Seating for 25 participants in a formal setting.
• Convenient free parking space.
• Interactive whiteboard, and internet access digital projector.
• Tea, coffee and biscuits with every booking.
• Buffets also available, on request.
Community groups/Charities:
Per hour: £15
Half day: £45
Full day: £80
Companies/Commercial Organisations:
Per hour: £20
Half day: £50
Full day: £90
For further information, e-mail swyddfa@anturwaunfawr.cymru or call 01286 674 155.

We have a 24 hour cancellation policy. Full payment is required for any bookings cancelled within 24 hours of the scheduled room booking.