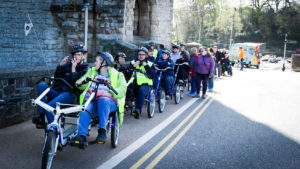 Health & Well-being and the 'Anturio Ymlaen' project
Antur Waunfawr received funding from the Integrated Care Fund to run a project aimed at promoting improved health and well-being.
'Anturio Ymlaen' is project aimed at transforming health and well-being opportunities for those with physical or learning disabilities, by planning and arranging new and varied activities that will appeal to a wide range of individuals, and encouraging them to take part and enjoy themselves.
This enables adults with learning disabilities, including older adults, to increase their fitness levels and well-being, plus results in increased social interaction and happiness – with the aim of decreasing health issues in the long term.
The project includes:
Adventure – walking sessions, walking football, and new leisure opportunities such as guided walks, fishing and local trips out
Cycling – outdoor cycling sessions on adaptive bikes
Cooking – learning about healthy eating, cooking and food cultivation, as well as picnics and dinners
Canoeing and sailing – supporting individuals to try new things and take risks
Relaxing – awareness of looking after mental health and the need to relax, as well as yoga classes
Reuse and recycling – woodwork and craft sessions in our workshops
Singing and dancing and social skills – developing creative opportunities, by cooperating with the 'Gefail Yr Ynys' project in Caernarfon, as well as singing sessions and taking part in the National Eisteddfod.