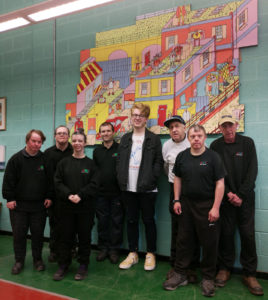 Warws Werdd furniture and clothes recycling warehouse in Caernarfon has a colourful new artwork on display in the shop, and the artist needs your help to name it!
Reece Ogden, 19, has just completed his art foundation course at Coleg Menai with distinction, and his work was exhibited at the college's  end-of-year exhibition in Parc Menai.
His final piece is now being exhibited at the Warws Werdd, and forms a colourful backdrop to the second hand furniture and clothes for sale in the shop. Reece, who lives in Caernarfon, made use of recycled materials to create his artwork, including recycled paint and recycled canvases donated to the Warws Werdd.
"I didn't see the point in buying new canvases when so many old ones  go to waste, that's why I decided to use recycled materials," Reece said.
"Also, I like the interesting shapes and sizes of canvas, and how they all fit together to form one irregular shape. It makes my work different to everyone else's and adds another dimension.
"I love to use lots of colour; I have an interest in children's art and I like to explore fiction – there is a very surreal element to my work."
The artwork is currently nameless, and Reece hopes that members of the public who visit Warws Werdd will be able to come up with a fitting name for his work. Visitors to the shop can write their suggestions down, and person who chooses the winning name will receive a £50 voucher to spend at Warws Werdd.
Reece, who will be studying illustration at Cheltenham University in September, is excited to have his art on display at the social enterprise.
"The Warws Werdd is the ideal place for people to see my work; lots of people visit the shop, and I hope it provides a glimpse into the way that I think and see, and is a talking point for customers."
Haydn Jones, recycling manager at Warws Werdd, said: "We're very pleased to be able to support a young, local artist. Reece's work fits in brilliantly at the Warws Werdd; it is fun, colourful and also has a strong focus on recycling and reuse. The individuals with learning disabilities who work in the shop are also really impressed with his work.
"We're glad that Reece has been able to make such imaginative use of all the second hand canvases, and we can't wait to see the names that our customers suggest for his artwork!"
To see Reece's work, and for your chance to win a £50 Warws Werdd voucher by suggesting a name for the piece, visit the Warws Werdd, Cibyn Industrial Estate, Caernarfon, LL55 2BD.