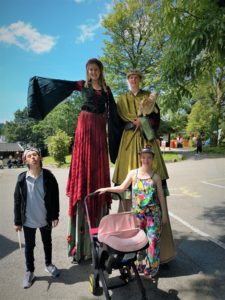 It's an important year for Antur Waunfawr, as it celebrates its 35 birthday!
Established in 1984 by R Gwynn Davies, Antur Waunfawr provides work and training opportunities for adults with learning disabilities in their community. The social enterprise has grown significantly over the last 35 years, and now manages 15 businesses across four sites, whilst supporting 67 individuals with learning disabilities and employing over 100 staff.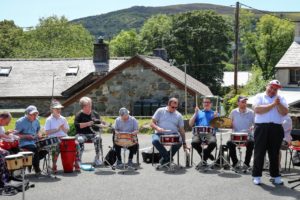 Antur Waunfawr celebrated in style, with a summer fair at their Waunfawr site, followed by an evening gig at Galeri Caernarfon, in the company of Gruff Rhys.
The summer fair was a big success, with live music including Phil Gas a'r Band and SERA, performances by Doniau Cudd, children's entertainment with Cimera Circus Skills and Dr Zigs Bubbles, and food & drink and craft stalls.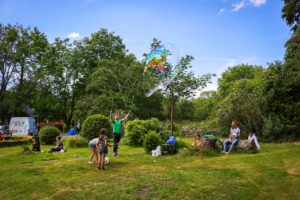 Menna Jones, Antur Waunfawr chief executive, said: "We had a great turnout for our summer fair. The local community is at the heart of everything we do, and to be able to celebrate 35 years with our friends and supporters meant a great deal to us.
"Health & wellbeing is key to Antur's services, and our summer fair this year was centred around this theme, with new activities including cycling and music for the whole family. It was a brilliant day, and the sun even made a special appearance for us!"
The celebrations continued into the evening, with the 'Antur 35: Gruff Rhys' gig at Galeri, Caernarfon. The night kicked off with Dyl Mei providing entertainment in the bar area, before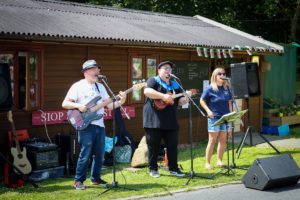 a brilliant performance by individuals from Antur Waunfawr led by musician Annette Bryn Parri. Annette has been holding regular music sessions at Antur, and the individuals received an amazing and emotional reception from the crowd.
Gruff Rhys then took to the stage for an acoustic performance. Known for his solo work and for his success with bands including Super Furry Animals, Gruff has long been a supporter of Antur Waunfawr's work. He last visited Antur Waunfawr in 2012 as part of his research for the 'American Interior' project which saw him follow in the footsteps of 18th-century explorer and ancient ancestor John Evans, of Waunfawr.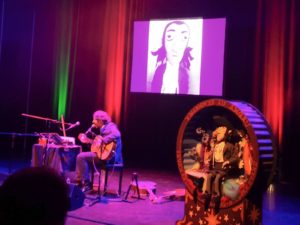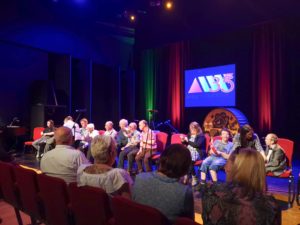 In a surprise twist, the puppet and shrine of John Evans, which Gruff took with him on his trip around America, made a special appearance as part of his set on stage at Galeri. Gruff has since kindly donated the puppet and shrine to Antur Waunfawr and so, in a fitting tribute, John Evans has returned home to Waunfawr!
Haydn Jones, recycling manager at Antur Waunfawr, said: "We're very grateful to Gruff Rhys for helping us to celebrate this milestone birthday, and Antur Waunfawr individuals thoroughly enjoyed the experience of supporting him on stage.
"These celebrations really helped to cement our values within the community, and we're grateful to all our supporters over the past thirty-five years, now here's to the next thirty-five!"