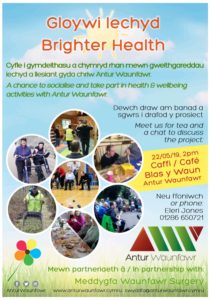 ☑️ Vote for us! ☑️
Our Brighter Health project is eligible for funding from Calor's Rural Community Fund, and we need your vote to help to make this exciting project a reality!
The Brighter Health project would see us work with the local community and Waunfawr Surgery, on a project that will bridge the generation gap. We'll be offering individuals who can be lonely within the community the opportunity to take part in various health and wellbeing activities and sessions together with Antur Waunfawr's individuals. We'll also be working alongside North Wales Police and local PCSOs to tackle antisocial community in the community, by offering more health & wellbeing opportunities for the younger generation.
If you're interested in finding out more about this exciting project, pop in to our cafe, Caffi Blas y Waun, in Waunfawr, on Wednesday 22 May at 2pm for an informal chat and cup of tea!
? Vote for us and support this exciting project today! ?
Click here to vote!