Antur's bike shop, Beics Menai have had a very busy month in the run-up to the summer season.
Staff members Gemma and Gary travelled to London recently, to meet with specialist bike company London Recumbents, a company who sell and hire bikes to families, but who also deal in adapted bikes for individuals with learning and physical disabilities. It was a very informative and useful trip!
Also this month,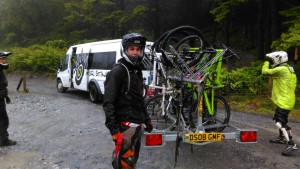 Gemma and Gary supported Project Enduro in their attempt to set a new World Record for the greatest number of vertical meters descended in 24 hours, on four-wheeled mountain bikes.
Project Enduro's initial brief was to design and manufacture two prototype four-wheeled downhill mountain bikes predominantly for use by people with physical disabilities, which they accomplished with ease. They have also now succeeded in smashing the world record, with Beics Menai at their side every step of the way!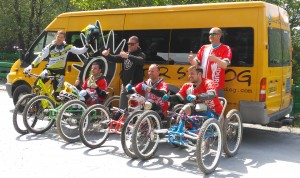 And, if all this wasn't enough, Beics Menai manned a stall in the Maes in Caernarfon last weekend, as part of the extremely popular Etape Eryri.