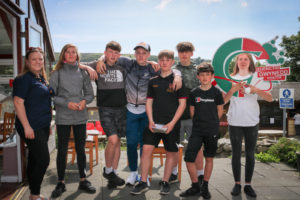 Waunfawr 'Beganifs' youth club has been shortlisted for the North Wales Police 'Your Community, Your Choice' grant. Social enterprise Antur Waunfawr has been running the club on their site in Waunfawr, with the support of Gwynedd Council's Youth Service, in a bid to reduce anti-social behavior in the village.
The club offers a range of activities, including cooking, games, music and gardening, based on the interests of the young people. This gives them the opportunity to socialise and learn new skills in a safe environment, in a way that does not disrupt the rest of the community.
The individuals feel ownership of the club and are very proud of it. Holding the club on Antur's site has also given them an insight into the valuable work that social enterprises do within communities, and this has earned their respect.
The club has participated in fundraising events in the village and Antur Waunfawr open days, holding cake sales and selling bric-a-brac. Since the start of the partnership with the Youth Service, there have been no incidents of anti-social behavior at Antur Waunfawr's site.
To secure this funding, the project needs your vote! To vote, send a blank email with the topic 'Beganifs' to: yourcommunityyourchoice@nthwales.pnn.police.uk
You can vote up to 4 times.