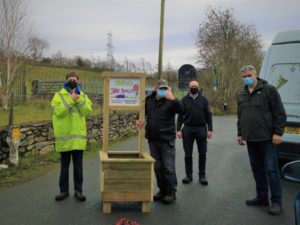 Antur Waunfawr has been working with the 'Penygroes Friends' group to create floral signage to put up around the village, to encourage safe driving.
The new signs double as attractive flower planters and are located on all routes into the village.
Dewi Jones, Deputy Health and Wellbeing Manager at Antur Waunfawr, said: "Some Antur Waunfawr individuals have continued to receive day support throughout the pandemic, and working on this project has given everyone a real sense of achievement. We are proud that the planters are being used for such an important purpose in the village, and have greatly enjoyed working with the Penygroes Friends group to deliver the project. "
Councillor Judith Humprheys, who represents Penygroes ward, said: "The Penygroes Friends group is committed to driving change for the better in Penygroes. The group is keen to try and improve the appearance of the village as well as responding to the concerns of the village's residents.
"These Access Features are a partnership between the Penygroes Friends, alongside Gwynedd Council, Antur Waunfawr, local businesses and Ysgol Bro Lleu along with further support from Cîst Gwynedd and Llanllyfni Community Council.
"By working together in this way, we are now able to place signs and flowers in the locations leading into the village, that is, as drivers arrive in the village. Special signs with a road safety message have been designed by pupils at Ysgol Bro Lleu.
"Hopefully this will send a message to the drivers that they are arriving in a densely populated urban area and encourage them to slow down. We are very grateful to Antur Waunfawr for the great work and the wonderful co-operation. "