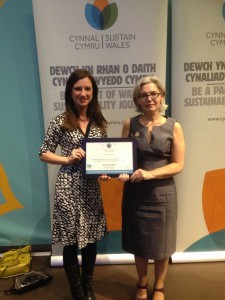 Antur Waunfawr are celebrating success once again, having been crowned the Social Enterprise of the Year at the Cynnal Cymru – Sustain Wales' awards ceremony in Cardiff last week.
Held at the Millennium Centre in front of an audience of national and international businesses and champions of sustainability in Wales, the awards were a chance to reward and highlight the great things people and organisations are doing on sustainable development.
Cynnal Cymru is the leading organisation for sustainable development in Wales, with over 12 years' experience of supporting change for a sustainable future.