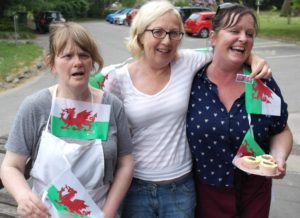 Antur Waunfawr is looking forward to having a stall at this year's National Eisteddfod in Bodedern, between 5-12 August. We'll have 3 stalls on the Maes (301-303), so pop over to say hello!
There'll be a free cup of tea or coffee waiting for you! As well as lots of homemade produce including cakes, bara brith, jams, chutneys and blackcurrant cassis. We'll also have a great range of homemade crafts, plus slate planters to order. Beics Menai will also have a range of adaptive bikes on display, and there'll be furniture from our Warws Werdd show room.
We also have a busy timetable of events for the week:
Monday 07 August:
2:30pm-3:15pm: Walking football on the sports' area
Tuesday 08 August:
1:30-2:30pm: Adaptive cycling session in the sports' area
1-4pm: Careers fair and advice
3pm: A visit from the Archdruid, Geraint Lloyd Owen
Wednesday 09 Awst
1:30pm-2:30pm: Singing session
Thursday 10 August
11:30am – 12:30pm: Singing session
A warm welcome to everyone! We look forward to seeing you there.