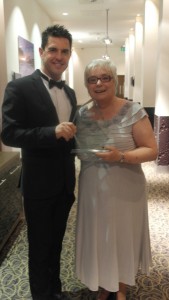 It was a double celebration for Antur last week, when it scooped its second award at Cymorth Cymru's Promoting Independence ceremony, held in Cardiff.
Having already been named Social Enterprise of the Year at the Cynnal Cymru – Sustain Wales awards in Cardiff a few weeks ago, Antur was thrilled to receive another accolade, this time recognising its excellence in Supported Living and Care.
Cymorth Cymru is the umbrella body for providers of homelessness and housing related support, and social care services in Wales. The Promoting Independence awards is a joint event organised by Cymorth Cymru and Welsh Local Authorities, which recognises innovation and excellence in these sectors.
Presenters for the evening were Gethin Evans of local charity GISDA, and Tony Garthwaite from the University of South Wales. Special guest speaker was Mark Colbourne MBE, former Welsh Paralympic-cyclist.
Chief Executive of Antur Waunfawr, Menna Jones said: "We are absolutely delighted to have won another prestigious award, and to be recognised for the work we do to support and enable vulnerable adults to live independently. Our staff work tirelessly to ensure that every individual receiving a service from Antur has the opportunity to develop their skills, and to progress, and we are very proud of the level of care and support we offer."